Are You Measuring Customer Lifetime Value?
Successful companies know their best customers—or think they do. Usually, they look at annual sales because that's an easy number to measure. But those sales figures don't show the entire picture. For example, your best customer for the past few years might cut back on purchasing this year, leaving you scrambling to fill the gap.
Customer engagement is another important factor that is difficult to quantify or predict. A customer who likes your company and refers other business is far more valuable than one who simply buys your products or services.
That's why it's important to analyze customer lifetime value (CLV), the present value of all the future cash flows coming from that relationship. CLV includes the projected amount of money the customer may spend as well as soft metrics like the cost of new customer acquisition or savings from customer retention, the propensity of a customer to refer the company to others and the cost of their loyalty.
Measuring CLV helps companies see how their decisions and actions are tied together and encourages a long-term look at the customer relationship rather than short-term impact, according to a recent report by Avaya and Frost & Sullivan, "The Significance of Customer Engagement: An Investigation into Customer Lifetime Value".
The study points to the importance of customer retention and referrals, and examines how customer engagement can be influenced through a blend of business orientation, resource management and technology.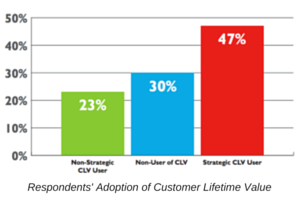 Measuring customer lifetime value can help companies stay on track for success, since research shows that companies tracking CLV significantly outperform others in terms of profitability and growth," said Laura Bassett, Avaya's enterprise product marketing director.
But the challenge facing many organizations is quantifying the value of customer engagement and determining the optimal mix of strategy, people, processes, culture and technology in order to maximize CLV, added Stephen Loynd, global program director, Frost & Sullivan.
To address that challenge, Avaya and Frost & Sullivan devised a customer lifetime value calculator to give businesses a better idea of which factors to measure. By posing queries about customer support and acquisition costs, customer retention duration, competitive comparisons, business orientation and organizational and support capabilities and strategies, the calculator can help companies gain a better understanding of their customers and potentially increase profitability.
"A more engaged customer becomes a more satisfied customer, more likely to spend, to recommend to others and to remain loyal," said the report. "Put another way, customer engagement done right translates into increased revenue over a longer period at a lower cost—a higher lifetime value of customers."