Becoming an Approachable Leader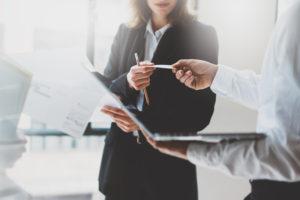 Romaine Seguin, president of UPS Americas Region in Miami, believes that being approachable is one of the keys to successful leadership. "People have to be able to come to you," said Seguin in a recent interview for Florida International University's Center for Leadership. "Quite frankly, the further up the ladder you go, the more important this trait becomes."
If you're a senior executive who wants to make a significant contribution to your organization, consider taking a quick self-assessment of your personal approachability. To be an effective leader, it's essential to hear the ideas, insight, opinions and complaints of your peers, subordinates, customers and other stakeholders.
Being a good listener with an open-door policy helps you build a broad understanding of current issues, resulting in better decisions for your organization.
Lisa Thompson, Pearson Partners' managing director of professional services, offers five suggestions for assessing your approachability:
Examine whether others view you as approachable. Make a list of the times that someone asks you a question, offers a suggestion or tells you about a problem. (Extra points if the request is made in person or on the phone, rather than text or email).
Take a look at your work habits. Do you spend most of the day holed up in your office, or do you make it a point to walk around your workplace? If your team is based in different geographic locations, are you accessible via phone, video or email? Do you conduct regular team meetings and phone calls or videoconferences?
Reduce your smartphone use. Are you constantly looking at texts or emails during a meeting? Do you walk through the office focusing on your device and ignoring your colleagues? Putting down your smartphone may be one of the best steps you can take to connect face-to-face with other people.
Analyze your body language and tone of voice. Your posture, gestures or manner of speaking might be saying, "Stay away." You might want to ask someone in your office to take a candid video of you interacting with others in an office or group meeting. The results might be surprising.
Consider executive coaching. One of the best ways to improve your approachability is to get feedback and recommendations from a professional executive coach. Changing habits is not an easy process, and a coach can provide you with support as well as suggestions.
Seguin said she learned the importance of being accessible from her first boss. "He had terrific leadership skills and was always out on the floor talking to us," she said. "That resonated with me and being approachable is one skill set I would never let go."