Women Leading Companies: Creating Access To Capital, Opportunity, Talent and Teamwork
Go Back to Searchlight Q2 2012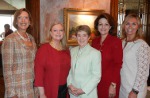 For companies seeking confident, skilled leaders, women can have a tremendous impact on the bottom line. Although almost half of the workforce is composed of women, comparatively few occupy the elite jobs at the top of the corporate hierarchy. However, the percentage of women leaders in the workforce is growing, thanks in part to companies that have learned the value of women's influence, knowledge and contributions.
Pearson Partners' Q2 2012 Spotlight Series event highlighted the current state of the female workforce, as well as ways that some companies are cultivating corporate cultures that advance women to leadership roles.
Our esteemed panel members included:
Angela Barrie, Senior Vice President of Sales, Institute for Corporate Productivity (i4cp)
Lucy Billingsley, Partner, Billingsley Company
Mary Murcott, Chief Executive Officer and President, NOVO
Roslyn Dawson Thompson, President and Chief Executive Officer, Dallas Women's Foundation
Billie Ida Williamson, Americas Inclusiveness Officer and Client Serving Partner, Ernst & Young (retired)
The Statistics
Angela Barrie of i4cp kicked off this quarter's breakfast by bringing the group up-to-date on current statistics relating to women in the workforce. According to i4cp's research, the U.S. workforce consists of 47 percent women, and of those, 51 percent are in a management or professional occupation. Of private businesses, 40 percent are woman-owned. Within the Fortune 500, however, women account for only 14 percent of executive-level roles, 16 percent of board seats and 4 percent of chief executive officers. A scant 7 percent of the top earners within the Fortune 500 are women, and just 9 percent of America's chief information officer jobs are held by women.
Despite recent advances in pay equity, full-time female employees still earn only 77 percent of the income of full-time male employees, according to a study based on the U.S. Census. At 10 years past college graduation, on average, women earn just 69 percent of their male peers' income.
Yet, women's contributions and thought leadership can have a tremendous impact on a company's bottom line. Ms. Barrie cited a Catalyst study that found Fortune 500 companies with three or more women on the board gain a significant performance advantage over those with fewer women, including a 73 percent return on sales, an 83 percent return on equity and a 112 percent return on invested capital.
Creating a Women-Friendly Corporate Culture
It has been said that leaving women out of any decision means losing half of the thought leadership needed to make the best move. Because people are naturally attracted to those most like themselves, women leaders tend to cultivate women-friendly corporate cultures. By the same token, young people growing up today see women in leadership roles and expect that to be the norm once they enter the workforce.
One starting point for building a corporate culture that embraces women leaders: be sure that your internal organization mirrors and values both the culture your clients have and that which they would want you to have. Creating a corporate culture that allows and encourages women to excel starts at the top, with the visible and active support of the chief executive officer and his or her leadership team. It is important to understand the difference between mentoring a woman leader and sponsoring that leader. While mentors and sponsors both can provide counsel and guidance to emerging leaders, a sponsor will put his or her own career on the line to help women advance within the organization.
By setting measureable targets and holding people accountable by tying those targets to compensation, a company's leaders can demonstrate their commitment to advancing women. Companies that allow women the flexibility to succeed in their work and still meet family demands help women achieve a balance of both. For jobs that require travel, it's important for women with families to have strong support at home.
From Pearson Partners' viewpoint, there is a vast market of highly qualified and skilled female leaders waiting to be tapped, and many of our clients are welcoming women into top positions and benefitting from their perspective and talents. The qualities companies are looking for in a woman leader are the same as those that make any leader great: confidence; a willingness to take risks; the desire to lead; and an ability to influence others, both within and beyond her own command and control structure.