The 2020 Workplace: How Innovative Companies Attract, Develop and Keep Tomorrow's Employees Today
Go Back to Searchlight Q2 2012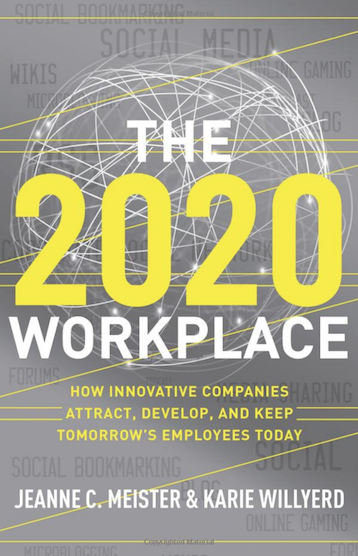 On June 19, 2012, Pearson Partners hosted the bimonthly Pearson Partners HR Roundtable, a networking and knowledge-sharing group of senior human resources executives in the North Texas area. Our guest speaker was Kristi Erickson, a partner with PeopleResults, a Human Capital consultancy specializing in the areas of talent, change, organization and communications. Below is a summary of Erickson's presentation, which was based on the best-selling book, "The 2020 Workplace," by Jeanne C. Meister and Karie Willyerd.
Our discussion focused on the forces that are driving change in the workplace and some forward-thinking practices that companies are using to engage their employees. Erickson also provided some predictions for the future and some ideas to try now, both personally and at work.
Q. What is the key premise of the book?
A. The 2020 workplace is being shaped today by 10 key trends, including a demographic tsunami, the globalization of knowledge workers and breakthrough social media technologies. These changes are truly transformative. The future won't be a linear progression from the past. We can't continue to do things the same way and be successful.
Q. What do these trends mean for the HR organization?
A. To attract, develop and engage employees, the 2020 workplace will need to provide an intensely personalized, social experience. There will be an increased focus on talent that will make the HR organization even more integral to an organization's success.
Q. What do you mean by a demographic tsunami?
A. In the U.S. workplace, there are five generations to consider—Traditionalists, Baby Boomers, Gen Xers, Millennials and Generation 2020 (born after 1997). While people are working longer and delaying retirement, it's clear that the Millennials will be dominating the workforce by 2020. They want to work for organizations that are supportive, empowering and inspiring. They want to develop their skills and blend home and work lives, working when, how and where they choose. This demographic tsunami drives a need to personalize the way you teach, lead and communicate and a diverse set of solutions to attract, develop and engage workers.
Q. How is globalization affecting the workplace?
A. We are seeing the rise of the knowledge worker with global access to markets and talent. And with the shift to knowledge work, the type of work being outsourced has continued to move up the value chain. As a result, companies are, or soon will find themselves to be, tapping into a global talent pool and managing a virtual workforce. That means collaboration, agility and innovation will be the levers for future growth.
Q. What about social networking, media and learning?
A. Workers today bring their social networks into the office. What touches them touches their network, amplifying the impact for both good and bad. Employers will have to balance making it easy for employees to create content and access it through new collaborative tools, while keeping the information secure.
Q. What should HR organizations be doing in regard to social media?
A. When it comes to recruiting, you should leverage social media tools to build your employer brand online. By leveraging virtual networks, you gain access to a broader talent pool and get a better sense of the candidate. Today, you should be checking their social profiles, via Facebook and LinkedIn, at a minimum.
Q. What are some other leading-edge recruiting practices?
A. Create a Facebook group to recruit. Leverage Twitter to recruit as well as share information and best practices with potential recruits. Leveraging these social technologies gives companies ways to share not only job opportunities, but insights into the company culture through links to blogs and videos. Certain industries are also recruiting in SecondLife; gaming industry Millennials, for example, love this because they value constant collaboration, communication and connection.
Q. What trends are occurring in the training and development sector?
A. HR organizations should begin to use digital and mobile tools to deliver programs on demand that workers can access when and where needed. Social learning will also be increasingly important—there is huge potential in user-generated learning content so people can learn from each other and leverage their expert networks, both inside and outside company walls.
Q. What changes are occurring in workplace leadership?
A. The first step is to get connected. Start to leverage social tools personally, and if you don't have a smartphone, get one and use it. Next, you should begin using social tools in the workplace to foster collaboration, help identify and recruit talent and enable faster dissemination of learning. It's also important to adopt a global mindset—not just in terms of geography, but in the way you think about diversity: age, gender and ethnicity. Build an environment and employer brand that are sensitive to these issues and sponsor events that promote diversity and inclusion. Remember that bringing diverse people together can spawn innovative thinking. Finally, create more agility in your learning programs, as the line between working and learning becomes increasingly permeable. These types of initiatives give you visibility as someone who ties talent strategies to business strategies to drive bottom-line results. And, that's a great seat to have!