Profile: Scott Robson, Search Consultant
As featured in our Q1 2019 Searchlight newsletter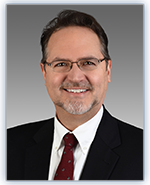 What was your first job, and what was it like?
My first job was a busboy as a pre-teen at a local restaurant owned by family friends in a small town in Nebraska, where I was born and raised, closely followed by being a newspaper carrier for many years. Both jobs were a lot of fun, giving me the opportunity to learn how to interact with a variety of people, complete important tasks and make some good spending and saving money! One year I won the "Newspaper Carrier of the Year" award and was rewarded with a trip to the Governor's Mansion which included lunch, meeting the Governor and then taking in a Nebraska University football game.
How and when did you get started in the executive search business?
I got into the executive search business in 1986 in Dallas after being laid off from my first job out of college (the regional office of the company I was with shut down). After being laid off I began meeting with several recruiters to help with my job search; instead, several of them wanted me to join them. I jumped in headfirst and haven't looked back since!
Why did you feel this was the right field for you?
I knew executive search was the right field for me because of the importance and impact of the service we provide, the constant challenge (every search is different), and the level of responsibility it comes with.
What are some highlights of your career so far? Tell us about your best days or proudest moments.
Highlights include a covert visit from the FBI to my three bosses at the very beginning of my career inquiring, "Who is this Scott Robson person and why is he calling around to our National Laboratories asking for and speaking to nuclear engineers?" End of story: search complete and FBI happy we weren't up to something nefarious!
What drew you to Pearson Partners?
I was drawn to Pearson Partners because of the people, our clients, our track record, and the type of positions we are entrusted with recruiting for.
What is your philosophy or approach when it comes to client relationships?
The most successful client relationships I've experienced are those where we are able to provide the client with candid feedback, market intelligence, and consultative advice. We are their partner versus a vendor.
How has today's challenging job market affected Pearson Partners' business? How has the company adapted?
As a result of the American economy's significant upturn the past two years, the job market has become increasingly challenging as executives often have numerous career opportunities being presented to them. This requires us to continually improve our internal processes, the rigor of our research, our messaging to the market, and ensuring we're crossing all our t's and dotting our i's as we bring these critical searches in for successful landings.
What do you think is the key to Pearson Partners' repeat business with top companies? What does the firm do better than anyone else?
Our keys to repeat business with top companies include our depth of industry expertise and high level of professionalism. We're also enjoyable to work with, and we get the job done in a way that often exceeds expectations.
What do you like to do outside of the office? Hobbies or passions?
I am actively engaged in serving the hurting and mentoring men in a variety of capacities through Shoreline City Church. I am on the Board of Directors of HIS Plan Organization, a 501(c)3 that's changing lives by providing mentorship, Christian education, service and fundraising for low-income, inner-city children and to assist young nonprofits in their development through consulting and financial assistance. I'm in my 12th year as President of an East Dallas neighborhood association and represent this neighborhood as part of a coalition of greater area neighborhoods that work closely with Dallas Police Department, City Council, Parks & Rec, etc. to enhance safety and quality of life. Lastly, I am working on making the next 30 years of marriage to my beautiful wife as fulfilling as our first 30!
What motto do you live by?
If we all do a little it will make a great BIG difference!
If you had to make a career change tomorrow, what job would you choose, and why?
If I were to make a career change, it would be to full-time ministry where I would lead and mentor men, and come alongside the hurting and those in difficult seasons of life by offering a helping hand.
Learn more about Scott in his professional bio.