Why Gen Xers Are Critical to Your Succession Plan
Go Back to Searchlight Q4 2014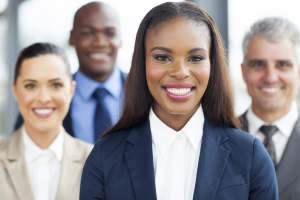 As published in Direct Selling News November issue
When it comes to the U.S. working population, all age groups are not created equal. There are significant differences in the fundamental values and predominant work styles of different generations. That raises a wide range of talent-related issues for organizations, including how to attract, develop and retain executives at different stages of their careers. However, there is one overarching challenge today: finding and hiring executives in their mid-30s and 40s with the potential to become tomorrow's CEOs, CFOs and other C-suite executives to lead organizations into the future.
Three Generations in the Workforce
Today, the U.S. talent pool is substantially larger at the top and the bottom of the working-age demographic groups than in the middle, according to a recent report from Pew Research Center, Generation X: America's Neglected 'Middle Child.' The Pew report outlines the clear differences between the three generations now in the workforce.
By 2015, over one-third of our work force will be retiring.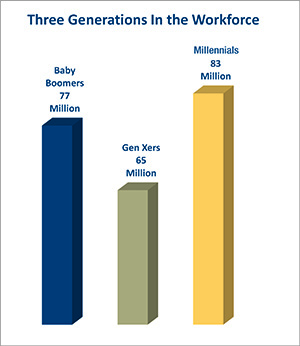 At the top are the 77 million members of the baby boom generation, who are now in their 50s and 60s. In most organizations, the senior leadership team consists largely of boomers who have accumulated decades of on-the-job knowledge and experience, but are steadily leaving their careers behind. In fact, more than 10,000 baby boomers retire every single day. By 2015, over one-third of our work force will be retiring, according to a 2013 Social Security Administration report.
An even larger demographic group is now entering the nation's workforce: the approximately 83 million millennials, including a large percentage now in their 20s and early 30s. Because these millennials are beginning their careers, few of them have developed the experience necessary for the responsibilities that come with a position in the C-suite.
In between these two generations are the 65 million Gen Xers, who range in age from 34 to 49. Gen X executives are in mid-career, developing skills and experience that can be groomed to prepare them to ascend to the C-suite. However, based on demographics, organizations will face a shortfall in talent in the next decade unless they make succession planning a top priority.
Fresh Perspective in the C-suite
Even as the relative scarcity of Gen Xers creates talent gaps, it also creates new opportunities for farsighted organizations to remain close to their customers as consumer habits evolve. For example, giving Gen Xers a significant presence in the C-suite can spur the development of new sales and marketing strategies, including innovative tactics based on the growing confluence of digital, mobile and social media. It can also provide organizations with fresh ideas and perspectives on changing customer values, attitudes and behaviors.
Virtually all consumer and B2B markets are undergoing similar changes. Companies whose succession plans are aimed at moving Gen Xers into leadership roles are likely to have an edge on their competitors in serving their steadily evolving markets.
Understanding Gen X
The different perspectives, viewpoints and motivators of each generation can often result in misunderstandings and missed opportunities—especially in the workplace—and can be a recipe for disaster. Yet for all the media focus on the differences between the work styles of boomers and millennials, Gen Xers have received far less attention. Company leaders should take into account the values, motivations and drivers for mid-career executives in this age band, because there are some distinct generational differences in their work styles and motivators.
As the Pew report observed, "In most of the ways we take stock of generations, Gen Xers are a low-slung, straight-line bridge between two noisy behemoths. From everything we know about them, Xers are savvy, skeptical and self-reliant; they're not into preening or pampering."
There are some common factors to consider in recruiting, hiring, developing and retaining these mid-career executives. In many cases, Gen Xers value freedom and autonomy to a greater extent than either the boomers or millennials. Like the boomers, they are hard workers while still valuing family and personal time, and like the millennials, they appreciate an enjoyable workplace along with flexible work hours and location. All three generations share the value of trust and respect.
Also common among Gen Xers is a desire for self-sufficiency. Having grown up during a time of corporate downsizing and economic and political instability, they can be less attached to their employers—particularly companies that fail to engage them on a personal level. That makes it imperative for recruiters to highlight the company's highest values and point out opportunities for senior executives to become involved in community, charitable and other causes that can make a positive difference in the world. Once onboard, these Xers need to continue to feel personally engaged and enriched in order to feel satisfied in their career.
Fortunately, most companies have a readily available source of information about what drives Gen Xers today—their internal talent pool of managers and professionals in their late 30s and 40s. Online surveys, focus groups and individual interviews—as well as participation in various organizational activities—can provide invaluable insight into Gen Xers' attitudes and behaviors and play a key role in developing an effective succession planning program.
Strategies for Succession Planning
One of the first steps in succession planning is to determine the size and skill level of the internal Gen X talent pool. Are there enough potential candidates at the mid-career level to replace the boomers in the company as they move into retirement? If the answer is no, then it's time to begin a focused recruiting strategy to bring more Gen Xers into the organization. If your Gen X candidate pool is already sufficient, then you should be actively developing these young executives in order to retain them.
It's vital to consider how to prepare these future leaders for spots in the C-suite, whether they are longtime veterans or new to the organization. This development process begins with having a clear picture of your company's vision: how it can improve, how you can reach your customers better, how you can be invested more with your clients, etc.
Your succession plan might include the names of three Gen Xers who could become CFO in the next three to five years.
Consider pulling together a strategic committee with executives from different disciplines who are comfortable sharing and evaluating individual ideas in order to come up with an overall vision for the future. Thinking this through can help identify who on your team would be the best fit to drive the company toward those goals.
Next, you should create a formal succession plan with a reasonable level of detail. For example, your plan might include the names of three Gen Xers who could become CFO in the next three to five years. List their strengths that make them a capable successor to the role, and also list the areas that need to be developed in order to make them successful. Be sure to specify where there are gaps in your plan that identify external recruiting needs. You should update your plan on a regular basis to reflect changes in both your organization and external market factors, and monitor the progress of these rising stars in their annual or quarterly reviews.
Once you have a succession plan in place, you can start working with your Gen Xers to develop them to ascend in your organization. These development plans can include both formal and semiformal learning settings, such as one-on-one coaching or lunch-and-learn sessions with a small group. You could also arrange to bring in a guest speaker or consultant to lead a classroom session or two devoted to specific leadership skills, such as motivating others or providing constructive feedback.
Potential Gen X leaders may also be encouraged to take educational courses that broaden their knowledge and skills. In some cases, an executive coach can provide one-on-one leadership training—an important consideration before moving someone into the C-suite.
In many cases, you can deepen an executive's commitment to the company by creating opportunities for Gen Xers to develop a higher profile both inside and outside the organization. That could include putting them on the podium at trade shows or business events, or launching a blog that aligns their personal and professional interests with those of the company.
Your succession plan might include the names of three Gen Xers who could become CFO in the next three to five years.
Another strategy for building leadership skills is rotating Gen Xers through different assignments or managerial positions. These "stretch assignments" can be an effective tactic for deepening executive engagement as well as providing opportunities for them to develop new skills. It can be a key step in succession planning because it prepares a subordinate to step into the shoes of the current leader if that senior executive takes on a new role.
As with any professional development program, it's a good idea to have a before-and-after comparison to determine the impact of these career-expanding activities. Your subordinates—and their managers—could write a brief statement about how they see their current leadership skills. You can also complete a more formal baseline assessment, perhaps with the help of an outside consulting firm.
After the coaching, teaching, speaking engagement or stretch assignment, you can have your Gen Xers update their essays, and/or complete new formalized assessments. In any case, you'll have gained new insight into their ability to lead—as well as your own teaching abilities—while contributing to the strength of your organization.
As a senior executive, you can put this insight to good use by continuing the ongoing process of training, coaching and mentoring your Gen Xers in leadership skills. Not only will you be giving them an opportunity to grow and progress in their careers—and support your own succession plan—you'll also get an opportunity to examine your own skill set.
A High Priority
Succession planning should be a high priority for all sizes and scopes of organizations—local, regional, national and global. Finding the right Gen Xers and grooming them for C-level positions—while also developing the next generation to take their place—is instrumental to achieving long-term sustainability. The injection of fresh ideas and new leadership styles can propel your company forward and take advantage of today's evolving market opportunities. As you focus on the urgent daily challenges, be sure to look to the future by developing an effective succession plan.
---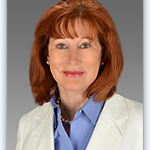 Judy Stubbs is vice president and a retained executive search consultant with Pearson Partners International. With previous experience as the chief human resources officer of Mary Kay Cosmetics, she has been helping her clients build strategic leadership teams for more than 25 years.