Pearson Partners in the Community – Our Friends Place
As featured in our Q1 2014 Searchlight newsletter
Pearson Partners Advocate: Lisa Thompson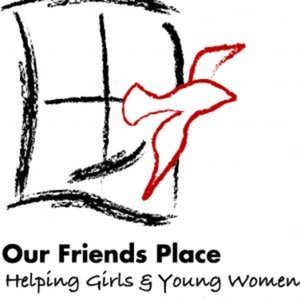 Pearson Partners believes in giving back to the community, and we encourage our team members to be involved in charitable and civic organizations. Lisa Thompson, our managing director of professional services, is president of Our Friends Place, an organization dedicated to breaking the cycles of abuse, neglect, poverty and homelessness in young girls and women. We spoke with Lisa about the organization's vital role in helping these young women.
What is the overall mission of Our Friends Place?
We are proud to be celebrating 25 years dedicated to changing the lives of at-risk girls and young women in the North Texas community, by providing a safe and stable environment for them to heal and acquire skills to become self-reliant. Our Friends Place helps girls and young women break the cycle of abuse, neglect, poverty and homelessness in their lives. We empower them on their path to become independent and successful women pursuing their dreams and contributing to the North Texas community.
How did you become involved with the organization?
I became involved with Our Friends Place after meeting Sue Hesseltine, OFP Executive Director, and have been on the board of directors for three years. My introduction to Sue was perfect timing because I had just ended my board term with another nonprofit, also focused on empowering women. I dove right in at OFP because their mission aligned with my passion for helping people, especially girls and young women, to reach their goals. I am proud to serve as the 2014 president of OFP, and I'm looking forward to helping to change the lives of more young women in our community.
What is the history of the organization, and how and why was it formed?
Our Friends Place has worked in the Dallas community to break the generational cycles of abuse, neglect, poverty and homelessness for more than 25 years. OFP was founded by Susybelle Gosslee in 1985, and we served our first girl in December 1987. In 1992, OFP opened the Beazley House, North Texas' first Transitional Living Center exclusively for single young women, which has served young women continually ever since. In 1992, all other transitional living programs were focused on families, and even today, there are many more programs serving families than single young women. We choose this niche to give young women the tools necessary to avoid poverty, because the No. 1 indicator of poverty for women in the United States is how young you have your first child.
OFP's TLC program provides affordable shared apartment living for single young women, and so much more. We focus on helping our young women advance educationally and gain job skills and experience, so that they can move toward economic self-sufficiency. Every young woman is expected to be employed and in an educational or vocational program, one full-time and the other part-time. Since we work toward empowerment, not entitlement, our young women pay 25 percent of their income for rent and an additional 10 percent into a secured savings/deposit account. The goal is that when a young woman attains a livable wage, she will have enough savings to pay for the first and last month's rent, utilities deposits and all the other expenses related to getting her first apartment.
We use dedicated volunteers to teach a variety of life skills, which our young women practice as they navigate each day. It is wonderful when a young woman easily becomes independent due to all of her hard work.
We have served young women who have aged out of Child Protective Services; are breaking free from domestic violence; are striving to get an education, yet due to poverty need affordable housing; whose families believe that they have no responsibility for their child once she is 18; and even young women who have been trafficked. Our young women break the generational cycles of abuse, neglect, poverty and homelessness—they become excellent employees, caring mothers and successful members of the Dallas community.
What would you say have been the overall results so far of the organization, and can you give an example of a project you've done or the ways you have improved the community?
In 2011, OFP completed a TLC Program Evaluation led by Dr. James Calvert. We were so excited that this evaluation quantified what we had been seeing for years: that OFP's TLC works. While in the program, our young women increase their education level, gain valuable job skills, are employed and learn the interpersonal skills necessary to move forward. In addition to excellent outcomes, our TLC program was one of the most cost-effective programs compared to those doing similar work. The design of Pauline's Place—a small apartment complex—was also reinforced by this study. Our young women learned and practiced real-life skills living in their own apartments, yet had the safety net of a mentor in the site-manager right on site. They also had to learn how to negotiate while sharing a bathroom, kitchen and living room with their roommates.
Also in 2011, Our Friends Place TLC received the Excellence in Social Innovation Award from the Center of Nonprofit Management for programs under a $1 million budget. This program evaluation and award just reinforced our passion for duplicating our TLC program, reaching more young women in need and doubling our capacity.
I am truly looking forward to my term as board president because this year, Our Friends Place begins a new chapter as our dream of duplicating our Transitional Living Center program becomes a reality. Our Friends Place has raised 100 percent of the $1.8 million projected construction costs for Pauline's Place, and a portion of the needed operating costs. We broke ground on the new facility in February of this year and are beginning construction on the new Pauline's Place Transitional Living Center, which will provide a home and change the lives of more young women in our community.
How has your involvement enriched your life, both personally and professionally? How has the organization helped you expand your business network?
I am thrilled to be a volunteer for Our Friends Place because it empowers girls and young women to move forward with their lives, having the structure and support necessary to pursue their dreams of education, training and self-sufficiency. My own daughter is in this age group, and I look at her and imagine how hard life might have been for her without a safe place to live, encouragement to reach her goals and the support of a family that believes in her. Watching these young women grow and dare to strive for a better life is a humbling and inspiring experience.
What are the factors limiting the organization in terms of its ability to do more for our community?
What we need the most to help these girls is awareness and funding to provide more opportunities for outreach to this population.
What is the best way to get involved with the organization?
OFP needs volunteers to teach life skills, join committees and participate in our get-acquainted events. We also have our annual fundraiser, The Event, coming up April 12 at Gleneagles Country Club from 7 p.m. to 11 p.m. It is a fun evening of casino and auctions. Visit our website for tickets and sponsorship opportunities.
There are many ways to support Our Friends Place, including volunteering your time, financial and in-kind donations, wish list donations and sponsorship opportunities.