Renee Arrington Receives Prestigious AESC Commitment to the Community Award
Go Back to Searchlight Q2 2018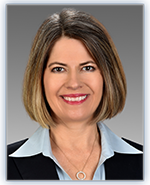 Award honors Arrington's 25 years of leadership in executive search combined with a strong commitment to community service
(DALLAS, Texas – May 31, 2018) – Pearson Partners International, a global executive search and leadership consulting firm, is pleased to announce that its senior vice president and director, Renee Baker Arrington, has been honored with one of the highest-level awards in the executive search profession.
The Association of Executive Search and Leadership Development Consultants (AESC) bestows two annual awards: the AESC Lifetime Achievement Award, recognizing outstanding contribution to the growth and development of the executive search consulting profession (won in 2013 by Pearson Partners Founder & Chairman Robert Pearson), and the AESC Commitment to the Community Award for leadership in executive search combined with a strong commitment to community service. This year's AESC Commitment to the Community Award recipient is Pearson Partners' Renee Baker Arrington.
Arrington has worked in executive search for more than 25 years and contributes her time to numerous not-for-profit and civic organizations. In addition to serving on Pearson Partners' board of directors, Renee serves on the board of directors of IIC Partners, one of the world's top 10 executive search organizations, with 50 offices in 35 countries (Pearson Partners is a member of IIC Partners). Additionally, she serves on the boards of directors of the Dallas/Fort Worth chapter of the Society for Information Management (SIM), the National Association of Corporate Directors (NACD) North Texas Chapter and the Foundation for the Young Women's Leadership Academy in Fort Worth, where she serves as chairman of the board. She is an executive committee member of Dallas Executive Women's Roundtable (EWR) and a member of Fort Worth's Women Steering Business (WSB). Renee has previously served on the board of North Texas Public Broadcasting (NPR Affiliate) and was board chairman of the YWCA of both Fort Worth and Tarrant Counties and the Fort Worth Westside YMCA.
"As someone who has built her career in this profession in retained executive search, it's truly humbling that my name is now on a list among so many other leaders, colleagues and friends who have been recipients of this distinct award. I am also really proud that giving back to the community is one of the tenets of our firm at Pearson Partners," notes Arrington.
Arrington was also selected this month as a 2018 C-Suite Award Winner by the Fort Worth Business Press for her business leadership as well as the civic and social contributions she has made to the community of Fort Worth and its organizations. This award came from nominations by Fort Worth business leaders.
"I regularly describe Renee as a process master, and she's part of onboarding all of our new team members for that reason. In my years in this industry, I've never met anybody who is better at the process of filling a search," said Pearson Partners' president and CEO, Keith Pearson. "Renee truly has an endless capacity for giving back—not only to her work in our firm, but also to charities and civic organizations."