Building a Deeper IT Talent Pool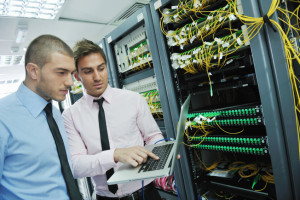 One of the more difficult HR questions for every enterprise is determining the size and scope of its internal information technology (IT) talent pool. On one hand, having a large, experienced in-house staff allows the organization to respond quickly to requests from internal customers and changes in the market. It also can reduce the fees paid to outside consultants, developers and designers.
But it's also expensive to maintain a large internal IT team, particularly if those professionals are not fully utilized in their current positions. Since technology priorities change so quickly, in-house IT staffers may find themselves out of a job unless they can update and revise their skill sets.
Clearly, there is no one-size-fits-all solution to the IT staffing question, particularly in a dynamic market environment. If major technology initiatives are underway, it may make sense to build up the IT talent pool. But once those projects have been completed, it may make sense to downsize to some extent, and use outside resources from time to time.
Therefore, CEOs, CIOs and other senior executives should pay attention to the internal resources in the IT division to be sure they are aligned with both current and future needs. For example, there might be a large number of experienced manager with high salaries who know all about enterprise resource planning (ERP) but lack firsthand knowledge about deploying mobile applications or collaborative tools. Alternatively, the talent pool might have a disproportionate number of newcomers who have great creative ideas and can design cutting-edge social media tools, but find it hard to relate those skills to the organization's strategic goals.
In general, an organization that has decided to make a substantial investment in new technology to accomplish its business goals may be better served by hiring new IT professionals who can design, develop and implement new solutions. However, an organization that is in more of a steady-state mode might be better served by having a smaller IT staff with the managerial experience needed to direct outside consultants and vendors on a project-by-project basis.
One of the best ways to be sure that IT resources are aligned with strategic priorities is to conduct an annual formal assessment of both needs and human resources. The results might point to a need to increase staffing to handle upcoming projects, to reduce or shift current employees to new roles or to close any identified skill gaps through a training and development program. In a world where effective use of technology is critical, organizations should seek to maximize their IT resources to achieve business success.