Cultural Competence in Diverse Teams
Go Back to Searchlight Q2 2015
The Pearson Partners HR Roundtable series provides a forum for senior corporate human resources executives to discuss issues and trends in human resources and leadership development. At our April 21 luncheon, Nicole DiRocco, global executive coach, discussed driving profitability and cultural competence in culturally diverse global teams. Nicole discussed why diversity is good for business, what is needed for a company to be culturally competent and how we can increase our cultural competence.
After the event, we sat down with Nicole to ask her a few questions about the importance of diversity and being culturally competent.
Why is diversity important?
Put simply, diversity increases profitability. A recent Diversity, Inc. annual ranking of the 43 public companies with the highest diversity showed that they were 24% more profitable than the S&P 500. They made up just 7% of the Fortune 500, yet they generated 22% of its total revenue. The correlation is clear: Companies that have more diverse workforces are more profitable.
What are some of the economic benefits of diversity?
The European Youth Commission did a recent study that found that having a diverse workforce benefits companies in three key areas: marketing, operations and innovation.
Marketing is largely about trust. Brands with diverse target markets build trust when they have diverse workforces.
Diversity improves operations by increasing profitability and cutting costs. Having a diverse workforce decreases absenteeism and turnover, reduces legal costs, enhances employee engagement and gives the company the freedom to seek ideal talent in a broader pool.
Lastly, diversity drives innovation. When the diversity in a product development team is in sync with the target market, the team can more successfully produce innovative products. For example, Daimler Chrysler has found that the best mix for their development team is 50% men and 50% women, a gradual age increase rather than peaks, and a blend of cultural groups with no more than half of any one national or ethnic group comprising the team.
How is diversity becoming increasingly important in the face of shifting global demographics?
Our global demographics are shifting faster than ever before. According to a recent study from PWC, by 2025 the world population will be at eight billion. At the same time, there is rising life expectancy and a declining birth rate. Nearly a billion women are expected to enter the economic mainstream in the coming decade. There is enormous innovation potential in this increasingly diverse workforce. Organizations' employees are going to have to become more culturally competent in order to realize their mission and to accomplish their vision.
How do you define cultural diversity?
Culture is the sum total of the way of living and doing things, and it includes our values, beliefs, perceptions, communication styles and thinking patterns. Culture guides the thinking patterns of a group. For example, you might hear someone say, "This is the way we do things around here." There are visible aspects of culture as well as non-visible.
Culture is not homogenous. There is diversity in cultures. For example, in the United States we have a national culture, and within it, regional cultures. Ethnic groups, businesses and neighborhoods all have cultures. Individuals can possess many cultures.
Culture is not timeless. It is actually dynamic and it changes. For example, the auto industry in the United States had to respond to a shift to overseas production a number of years ago. The industry has had to make changes to remain competitive.
Many things form your lens of culture and the way you see other people. Our values, beliefs and attitudes are formed through an all-encompassing educational and socialization process. But primarily, there are four methods of learning culture: life experiences, parents, peer groups and media. All of these influences can hold us back from being able to view people of different cultures from our own without blinders.
How do companies find leaders who are culturally competent?
Companies are increasingly faced with the challenge of finding global and highly mobile leaders, often referred to as Global Nomadic Leaders. A GNL has been raised in multiple countries, speaks multiple languages, and is comfortable living everywhere and working anywhere. If you ask a GNL where he or she is from, they often hesitate to identify a specific country. For example, you might have a leader who was born in India, raised in Saudi Arabia, schooled in the United States and now works in Europe.
As a distinction, a GNL is not an expat. Expats are raised in one country and then work and live abroad for a time as an adult. They typically stay in their own subculture, and they exhibit characteristics and patterns that are sufficient enough to distinguish them from the embracing culture. The GNL, however, has lived abroad as a child and as an adult. GNLs have a highly mobile lifestyle, and their identity is part of who they are and how they see other people. GNLs are nomadic in the sense that, from their early years, they have developed a migratory instinct that they perpetuate as adult leaders.
GNLs are multi-culturally intelligent and competent. They are highly sought after by multinational companies for their worldview. Being relatively detached from any specific culture, they typically are more cross-culturally sensitive. They thrive on complex situations and unique challenges. They are able to distinguish what is common to all humans and what is culturally specific. They possess the empathy that comes from being multicultural, and they are able to put themselves in another person's shoes.
Global companies need these types of leaders who have the ability to accelerate business development in complex cultural environments.
How do you define cultural competence?
Cultural competence is the ability to think, feel and act in ways that are respectful of cultural diversity. It is a developmental and dynamic process, synonymous with quality, and an effective strategy for reducing disparities. There are other terms you may hear for cultural competence, including "multicultural intelligence" and "culturally relevant".
Cultural competence is a life-long process. Each of us brings varied cultural dimensions to every interaction. We all have biases and preferences, but we can learn to be culturally competent. Effective intercultural communication is possible, but it requires effort.
On the other hand, cultural incompetence is the unintended consequence of not considering another person's culture. For example, when a company fails to recognize and encourage employees' cultures, it can significantly reduce employee engagement, morale and productivity.
There are seven main cultural competencies, and they look very much like general leadership skills:
Empathy: Empathy in the workplace is important to respect and encourage differences in cultures. For example, companies can offer floating holidays; offer a clean, private room for nursing mothers; have a quiet, private room for people to pray; and respect people who are fasting.
Good will: A culturally competent leader is positive and sincere in relations with others. For example, remember birthdays, offer coffee and notice pictures on employees' desks.
Always learning: A culturally competent leader seeks out and learns more, really getting to know people and being curious. For example, ask for suggestions to make the company better, or to enable employees to succeed.
Ability to deal with ambiguity: A culturally competent leader holds off on making judgments and understands the societal contexts in which decisions are made. For example, ask for help in understanding why someone has a strong opinion, or how a policy might affect him or her personally.
Giving praise: A culturally competent leader gives praise that is both acceptable and sincere. For example, give credit to someone for speaking frankly, or for dealing with a customer fairly, or for having a great idea.
Inviting trust: A culturally competent leader keeps people's confidence. For example, be that discrete and trustworthy friend that you want others to be for you. One of our greatest assets is our integrity.
Feedback: A culturally competent leader uses feedback well and is able to give it in a way that is appreciated and helps people do their jobs better. For example, accept constructive criticism and use it to build your skills, and do the same for others.
There is a difference between social skills and cultural competence. Too often, the concepts get tossed about without people really understanding how they impact a globally diverse workplace. For example, in various cultures, styles of things like the tone of one's voice, small talk, a handshake, eye contact, assertiveness and personal space can vary dramatically. These styles are influenced by one's culture, and differences among cultures can trigger conflict.
Understanding these differences can help inform us, but they're not recipes for cultural competence, and they're not always accurate. Cultural competence begins with self-assessment of one's place on the continuum of cultural proficiency. Where you are on this continuum is fine; it's your effort and commitment to move forward that counts.
What are the steps along the cultural proficiency continuum?
There are six steps along the continuum of cultural proficiency. Below is an illustration, as well as some examples of behaviors and attitudes along the path to proficiency.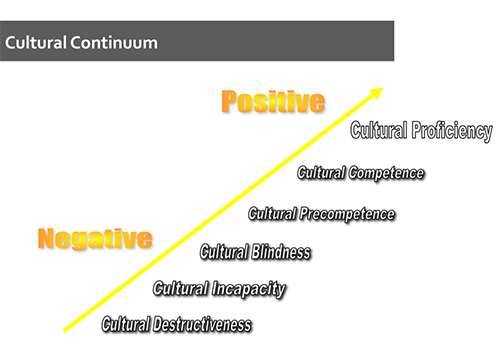 Cultural Destructiveness: You see the difference but you stomp it out. For example, "This is America and everyone should speak English." Refusing to accept cultural differences is negating and disparaging.
Cultural Incapacity: You see the difference and you say it's wrong. For example, "I have been teaching this way for 25 years and I am not changing my curriculum for any student." Believing in the superiority of one's own culture and behavior disempowers other cultures.
Cultural Blindness: You see the differences but act as if you don't. For example, "When I see children with disabilities, I don't see the disability, I just see a child." Acting as if the cultural differences one sees do not matter dismisses the values of another culture.
Cultural Precompentence: You see the difference and you respond inadequately. For example, "We need to hire a diversity candidate for this role." The pursuit of a single goal that fulfills a perceived obligation to a particular culture, but makes no plans to support or adapt that culture into the workplace, is inadequate.
Cultural Competence: You see the difference and understand its importance. For example, "We must continually train our staff about communication strategies that lead to understanding of other people's cultures." Interacting with other cultural groups in ways that recognize their differences empowers the individuals, the team and the organization.
Culturally Proficiency: You see the difference and respond, honoring cultures and viewing diversity as a benefit. For example, "I believe conflict is natural and normal, and I am glad we are learning how to do things differently when conflict arises." Interacting knowledgeably and respectfully among cultural groups helps us learn about individuals and the organization and interact effectively in a variety of cultural environments.
What are the essential elements needed to progress to cultural proficiency?
There are five elements needed for cultural proficiency. These include acceptance and respect for differences; ongoing self-assessment; attention to the dynamics of differences; continual training on diversity and cross-cultural communication; and adaptation of individual values and behaviors to those of the organization.
These five elements must be visible in every level of the organization—including people, leadership, guidelines, policies and governance. When an organization recognizes and respects the value of cultural differences, people feel supported in their efforts.
What is the best way to start?
Cultural competence begins with awareness—being conscious of one's own attitudes and beliefs. It grows with knowledge—the accumulation of factual information about specific cultures. It is enhanced with skills—integrating awareness of cultural differences into behaviors. Finally, it is polished and honed with cross-cultural interaction—using multiple viewpoints in solving problems.
---
If you have further questions about how to integrate cultural proficiency for success in your organization or your career, contact us.
CALL FOR SPEAKERS
We are seeking speakers for our Pearson Partners HR Roundtable events. If you, or someone you know, has expertise in presenting on an executive-level HR-related topic, please contact us.
Are you a member of the Pearson Partners HR Roundtable? If you are a senior corporate human resources executive who is interested in joining our discussions, please check out our LinkedIn group.