Hiring Activity: 2020 & Beyond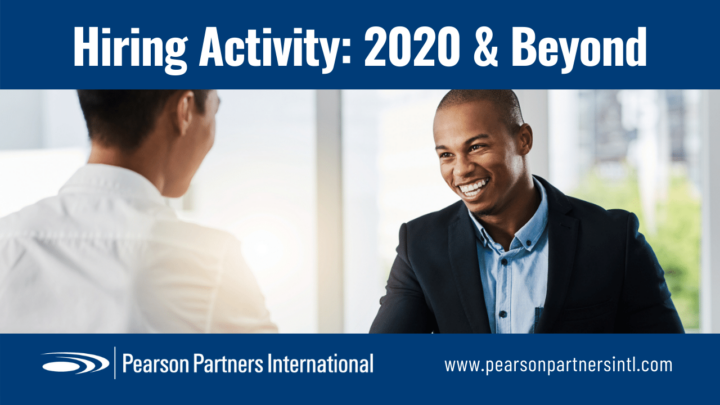 Nationwide Business Leaders Weigh in on Hiring Plans During and After the Pandemic
Pearson Partners International recently published a study on the business and economic impact of COVID-19. Over 500 business leaders participated from across the nation, representing companies ranging from small, private organizations to multi-national conglomerates. Along with questions about operational impact, business continuity and the economy, business leaders were asked about plans for hiring and staffing now and in the future.
Below, we summarize these business leaders' input on hiring activity and plans in the fourth segment in our series following the study.
Capitalizing on a Slow Market
While overall hiring has slowed, some companies have taken advantage of the opportunity to add star players to their teams during the economic downturn. One CEO said, "During this economic time, I have found that great opportunity is available with talented employees who would not have been previously available." Several business leaders reported seeing an increased need for talent. One said, "My company is growing its market share and still needs employees to get that done." At the board level, one CEO reported, "Demand for experienced board members and advisors has increased markedly in the past two to three months."
Over a tenth (11 percent) of respondents said that their companies plan to increase hiring in the next year. Of those, most (88 percent) said they expect to increase hiring by 10–25 percent. Respondents who reported plans to fill top positions within the next year said that they plan to hire people in customer service, executive management, engineering, information technology, marketing, public relations, risk management, legal, healthcare sales, marketing and business development. While most respondents (91 percent) did not anticipate creating any new job titles on their leadership teams as a result of the crisis, several said that existing roles will have added responsibilities.
Some Hesitation
Still, downsizing, hiring freezes and employee furloughs affected almost two-thirds (62 percent) of respondents' companies. "We have eliminated open roles, frozen other positions and made some layoffs," reported one CEO respondent. While many positions were eliminated, many respondents reported that their companies were still actively hiring for certain positions. One said that hiring at their organization "will remain relatively flat but, we will backfill critical roles."
Some respondents reported mixed hiring activity, depending on the functional role. One CEO said, "We have increased hiring in customer-facing positions and placed a hiring freeze on non-essential positions."  Another commented, "We will be building capabilities and talent in some new areas while adjusting our capacity in other areas. New hiring depends on the role and the need for specific skills in many cases." Another said that "hiring will be partially based on client response and new technology considerations. New technology is at the forefront today, and that will build efficiencies and effectiveness. Going forward, we need to continue nurturing technical skills and delivery."
Executives Wary of Making a Change
While unemployment is at an all-time high, many executives have become increasingly wary of changing jobs or relocating. In fact, a recent study of CHROs by Salveson Stetson Group (a Pearson Partners International global partner firm) found that most executives (64 percent), said they would not be interested in considering a career move during the COVID-19 pandemic. Yet, for the right opportunity, more than half (57 percent) said they would accept a job without meeting the manager face-to-face or experiencing the workplace environment. Two-thirds of executives (66 percent) said they would not accept a position that would require relocating, but a majority (82 percent) said they would accept a position that was remote-only.
Hiring Via Video
When asked whether they would consider hiring an employee based solely on video interviews, and not having met in person, our respondents were about evenly split. 37 percent said they would, 34 percent said they would not and 29 percent said it would depend on the position. One CEO said she would be willing to do so "only if I or one of my leadership team members knew the candidate personally."
Business Resilience
Many companies are still hiring and filling positions in critical roles. While hiring has slowed due to the crisis, it has not stopped and in fact, in some industries and functional areas, hiring has increased. Many companies have been able to activate business continuity plans, implement work-from-home strategies and deploy technology to get work done. Some companies have taken the opportunity to develop new products, services and business lines. For companies with the resilience to do so, this environment represents a good time to recruit and upgrade talent resources.
Read more in our full study on The Business and Economic Impact of COVID-19.