Sharpen Your Project Management Skills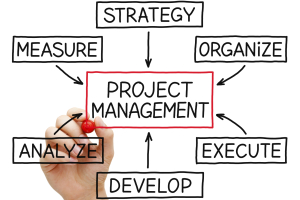 As a member of the senior leadership team, you can expect to be put in charge of a special project related to your field of expertise, such as finance, technology, marketing and production. If it's been a while since you've handled a major project for your organization, here are some of the skills you will need to bring the initiative to a successful conclusion.
Define the task. Before you begin work, it's essential to understand the current challenge, the goal of the project, the budget for the project (if any) and the timeframe to deliver results. As project leader, you need to define the framework for the task and understand the parameters for success. Otherwise, there's the risk of missing the mark completely, with collateral damage to your career prospects.
Organize the team. You need to consider who in the organization should be on the project team, and whether bringing in an outside consultant or partner would help you achieve the goal. You also need to be aware of each team member's other obligations in order to avoid an overload of work that could delay the project timetable.
Lead the project. Here's where you put your hard-earned communication, analytic and people skills to work as you make assignments, measure progress and overcome the challenges. You need to institute an open-door communication process with team members so they will tell you about any problems at an early stage. You may need to schedule regular in-person or virtual team meetings to share input, with follow-up assignments as necessary. Finally, you need to hold team members accountable for their progress as the work flows to a conclusion.
Report the results. Once the project is complete, you will need to provide a formal or informal report of the results. In some cases, you'll be asked to provide a recommendation to stakeholders such as the CEO and board of directors. In other cases, you'll convey your findings to the senior leadership team for further discussion and possible action. That's usually the case when a project involves an HR-related issue, such as "Why are so many experienced workers choosing early retirement?" or "How can we improve morale and productivity in our regional office?"
For a senior executive, a new project is a high-stakes assignment. So be sure to sharpen your project management skills to achieve success and keep your career moving forward.