Go Back to Searchlight Q4 2013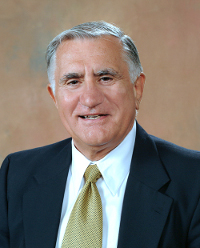 In May of this year, our firm and our families lost a dear longtime friend, Dr. Constantine "Connie" Konstans. Dr. Konstans—the father of our vice president Stephen Konstans—was a professor at the University of Texas at Dallas Naveen Jindal School of Management, and the founder of the Institute for Excellence in Corporate Governance. In March 2013, UT Dallas had named in his honor a professorship, the Constantine Konstans Professorship in Accounting and Corporate Governance. Also this year, Dr. Konstans earned a lifetime achievement award from D CEO Magazine, and was named a 2013 Fellow of the Open Compliance and Ethics Group, a nonprofit that helps organizations achieve principled performance in areas such as governance and assurance. These accolades and others highlighted more than 50 years of academic, professional and community achievements.
UT Dallas has announced an endowed fund to elevate the Konstans professorship. The Constantine Konstans Distinguished Professorship in Accounting and Corporate Governance will honor the life and work of Dr. Konstans and support in perpetuity the academic research that was so important to him. The fund is very close to its goal and hopes to announce the Distinguished Professorship in early 2014.
We are inviting our clients and friends to contribute to this effort. Gifts to the Konstans Distinguished Professorship will be matched 100% by the Naveen Jindal School of Management, and some employers are also matching through established programs. Your investment in UT Dallas will help drive discovery and innovation to serve our global economy. If you would like to participate, please contact Marcus Baker, UTD's Director of Development and Alumni Relations, at (972) 883-6298, or visit http://jindal.utdallas.edu/makeagift.
Learn more about Dr. Konstans in our Q2 2013 newsletter article.