(All events are by invitation-only—except TweetChats and Webinars.)
Jun
4
Wed
2014
Pearson Partners HR Roundtable: Making Waves
Jun 4 @ 11:30 am – 1:00 pm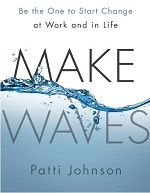 Why is it so hard for us to start big or small changes in our teams, organizations or community?
Our thoughts get in our way and we rely on the same steps that work for other situations. But, a true change—a wave—is different, says Patti Johnson, CEO of PeopleResults and former Accenture Senior Executive. A wave requires stepping out and building commitment that grows organically.
At our June 4 DFW HR Roundtable: Make Waves: Be the One to Start Change at Work and in Life, Patti Johnson will share how anyone can start or contribute to a wave by diving into topics such as:
Relying on "What can I do?" in any situation
Why having all of the answers can work against you
Why you need Idea Partners
How to get started—without a perfect plan
The impact of true experimentation
How to build a community around your wave
Trends in the workplace and our culture that are transforming how change happens
Why organizations committed to growth, innovation and personal accountability need more Wave Makers and how to develop them
Patti Johnson has researched and interviewed an eclectic mix of Wave Makers, from leaders in business and the community to entrepreneurs and new professionals, to explore the decisions and actions of individuals who started a change.
What's your wave?
– See more at: http://pattibjohnson.com/make-waves