Profile: Carolyn Simons, Vice President
As featured in our Q2 2014 Searchlight newsletter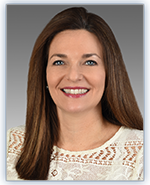 What was your first job, and what was it like?
The first paying job I ever held was working in a flower store the summer I turned 14. I cleaned flowers, made floral arrangements and took customer orders. I loved learning the different names of flowers and their meanings.
How and when did you get started in the executive search business?
I got started in executive search more than 20 years ago. I began my career as a recruiter working for a national healthcare consulting firm, where I supported the firm's search practice and was eventually promoted to oversee and lead its search and interim management services.
Why did you feel this was the right field for you? What do you love about your job?
I've enjoyed executive search from the start. I love working with clients to learn about their businesses, challenges and unique cultures. I love working with candidates to understand their career experiences and passions so that I can make the best match between my clients and candidates. In addition, I really enjoy my focus on healthcare. At the end of the day, I hope the gifted leaders I place have a positive impact on our healthcare system and patients.
What are some highlights of your career so far? Tell us about your best days or proudest moments.
The most rewarding moments I've had in my career have been working with struggling organizations, particularly those in the midst of financial or clinical turnarounds and those who need to completely rebuild their leadership teams while still steering the ship. You fill out the team—CEO, CFO, COO, and others—and they get to work. Shortly after, we begin to see improvements in financials, clinical outcomes and employee morale under the new leadership. It's a great feeling!
What drew you to Pearson Partners?
I was drawn to Pearson Partners because it is a boutique search firm with an international reach and a great reputation throughout the DFW market. I also like the diversity of its clients and the executive-level searches we work on. Pearson Partners has a wonderful team of professionals dedicated to providing great counsel and search for its clients. All of the partners and vice presidents are hands-on and vested in their clients' success.
What is your philosophy or approach when it comes to client relationships?
Clients are the heart of Pearson Partners' business. I look to foster long-term relationships and work to become a trusted business advisor.
How has today's challenging job market affected the executive search business? How has Pearson Partners adapted?
I believe we are in the midst of a war for talent across many industries, particularly healthcare. We have to keep pace with new technologies and changing regulations and really look for visionary leaders. I think our clients have greater expectations of the search process and want to be more collaborative. Pearson Partners has adapted by employing technology to work smarter, engage more with clients and candidates, and track industry trends, movers and shakers. We continue to focus on our client relationships and how we can add value to our clients' businesses.
What do you think is the key to Pearson Partners' repeat business with top companies? What does the firm do better than anyone else?
I think the keys to our repeat business is taking the time to listen to our clients, hearing what they need, providing accurate counsel in regard to the hiring market and filling critical positions in a timely manner. We really take the time to partner with our clients and find the right fit.
What do you like to do outside of the office? Hobbies or passions?
When I'm not at work, I enjoy spending time with my family, reading, cooking and traveling. I have two children that keep me very busy with weekend activities, including soccer and volleyball games, as well as band.
What motto do you live by?
Have courage and be kind.
If you had to make a career change tomorrow, what job would you choose and why?
If I had to make a career change, I'd be a travel photographer. I'd combine my love of travel and adventure with capturing sights and cultures from around the world.